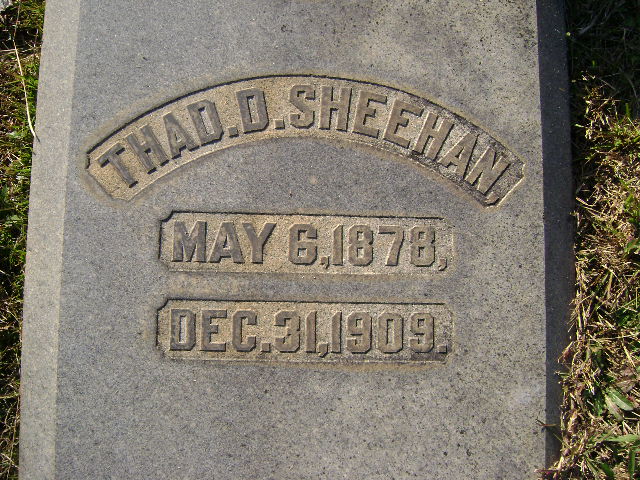 Photo by James Allen
Thaddeus was born to Irish parents
Dennis G.
and Anna Dunn Sheehan 6 May 1878. He lived just thirty-one years, dying at his home in Macon, Georgia 31 December 1909.
What (if true) makes his life curious to me is an entry found in the 1900 U.S. Federal census for Mount Hope, Baltimore, Maryland. The census, specifically, was for the patients of Mount Hope Retreat. This was a hospital and asylum began about 1840 by the Roman Catholic Sisters of Charity. This facility was described in
Baltimore County, its History, Progress and Opportunities
(pub. 1916 by the Jeffersonian Publishing Co. of Towson, MD) as "the place where so many unfortunates are cared for and placed on the road to recovery." Per the aforementioned census, a Thad D. Sheehan (age 22, born Georgia) was an "insane patient" at Mount Hope Retreat.
First of all, is this the same Thad D. Sheehan resting in Rose Hill Cemetery? There are connections that seem to suggest so. Mount Hope Retreat was a Catholic facility, and per an obituary, Thad was possibly of the Catholic faith. Furthermore, Mount Hope Retreat was located in Baltimore, Maryland, and I found this tidbit in a local (Georgia) paper: "Mr. Thad Sheehan has accepted the agency for the Baltimore American. His many friends here wish him every success in his new work." [
Macon Telegraph
, 10 July 1903, Pg. 2] And the 1908 Macon, Georgia city directory lists Thad as a reporter. Makes sense he might have tested the waters in the Baltimore newspaper business -- another connection between Thad in Georgia and Thad in Maryland.
It's the
insane
part that seems, um, insane? My gut says to write it off as incomplete and/or inaccurate information in the census. Certainly not an uncommon thing. But I do think the Thad in Maryland and the Thad in Georgia are one in the same. I sure would like to know the whole story!
THADDEUS SHEEHAN IS FOUND DEAD
Prominent Young Macon Man Ill Only Short Time.
Macon, Ga., December 31 -- (Special.) Thaddeus D. Sheehan, son of the late Dennis Sheehan, and a young man whose personality and jovial good nature were as well known to every citizen almost as that of members of his own family, was found dead in his bed this morning at the family residence, 1120 Walnut street, by his mother, Mrs. Anna T. Sheehan, when she went to his room to arouse him for his morning meal. He had been slightly indisposed two or three days, and his physical condition was not at all favorable, but he had not chosen to remain indoors and was only yesterday on the streets in the best of spirits.
He was a young man, unmarried. He took great interest in all political affairs about the community, and always had his side, working devotedly to win. He frequented the city hall, paid regular visits to all the officials when they happened to be those for whom he had worked in the elections, and regularly made calls at all the public offices in town. His death was a distinct shock to scores of people. Only his mother survives him. The funeral will occur tomorrow. [
Atlanta Consitution
(Georgia) 1 January 1910]