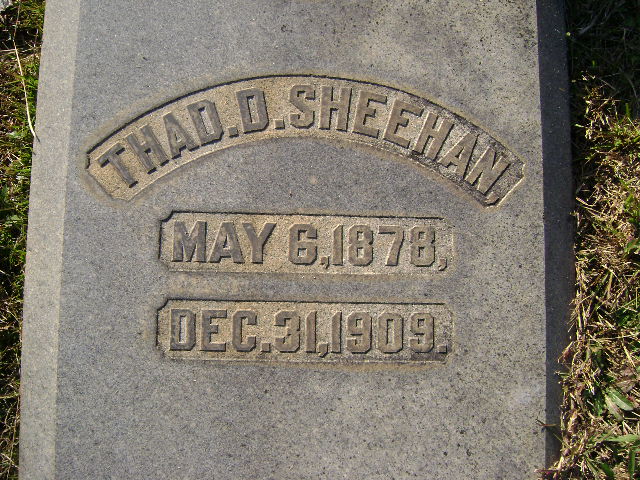 Photo by James Allen
THADDEUS D. SHEEHAN IS CLAIMED BY DEATH

Well Known Young Man was Found Dead in Bed Yesterday Morning.
Thaddeus D. Sheehan, son of the late
Dennis G. Sheehan
, was found dead yesterday morning at 9 o'clock when his mother, Mrs. Anna D. Sheehan, went to his room to awake him. The man had been dead several hours.
He was born in Macon May 6, 1879, and was one of the best known young men of the community. Genuine sorrow was expressed by many when the news of his sudden death became known.
When Mr. Sheehan did not appear for breakfast at the usual hour his mother became alarmed and went to her son's room. She was horrified to discover the body cold in death.
The funeral will take place this afternoon at 3 o'clock from St. Joseph's Catholic church, Rev. Father Madden officiating.
Tribute of a Friend.
The following tribute is from a friend:
There was no better known personage in Macon than Thaddeus D. Sheehan. About thirty years ago there was no better known or more universally liked man than Capt. Dennis G. Sheehan, the father. The older citizen will recall the days when Thad, as he was most generally called, was a wee little fellow, the constant companion of his father. His precocity and the love of the father for the boy was known to all. Then came the death of Captain Sheehan, and young as he was it was a great blow to Thad. To the day of his death the love of the son for his father, his devotion to his memory, and the tenderness in which he always spoke of him, and his mother as well, was noted always among those with whom Thad mingled.
In the death of this man, for man he was, the children of the city have lost a great friend. No man loved children more than he, and they, in turn, loved him. He was their friend alway [sic], and their champion. Never would he allow them to be imposed on, and not only was he ever ready to fight their battles and champion their causes, but he was constantly doing something for them, little things it is true, but sufficient to show his love for them. Flowers and children were his idols.
Young Sheehan had his friends, plenty of them. He had a keen sense of honor. Without intention to be too personal, one instance is given to show this truth: It was during the recent municipal campaign. He had friends on both sides, and he was undecided as to how he would cast his vote. He worried over it, and when one day he would decide to vote for Miller he would keep away from his Moore friends. Then he changed and declared he would vote for Moore; but later in the campaign he did some clerical work for the Miller headquarters, and at last he voted for Miller. His reason for this was characteristic. He said while he wanted to vote for Moore, having a greater number of friends on that side, he had accepted money from the Miller people, and his conscience would not allow him to vote against Miller. This is only one instance of many.
Let it be repeated, the children have lost a good friend. [
Macon Telegraph
(Georgia) 1 January 1910, pg. 7 -- viewed online at
GenealogyBank
.]