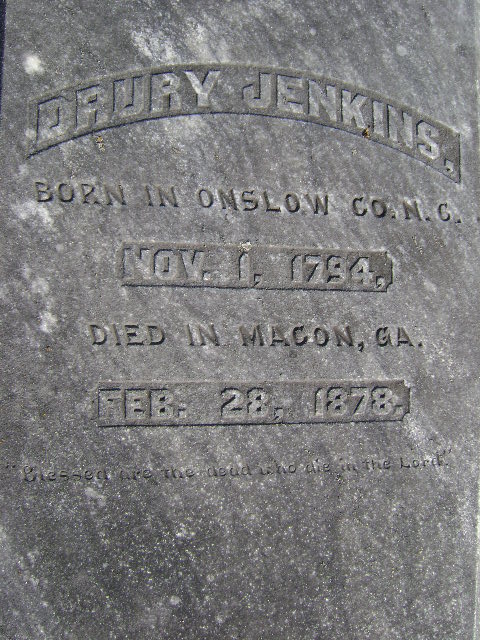 Drury Jenkins
Born in Onslow Co, N.C.
Nov 1, 1794
Died in Macon, GA.
Feb 28, 1878
Blessed are the dead who die in the Lord.

Photo by James Allen
When Drury Jenkins felt duty call in April 1861, he didn't let his age of 66+ years get in the way. He served as a private in Company E of the 3rd Georgia Infantry for more than a year, when he was discharged for "general debility and extreme age." His departure was noted in a letter to the
Macon Telegraph
(Georgia):
CAMP NEAR RICHMOND,
3d Regiment Georgia Vols.,
June 14th, 1862.
Editor Telegraph: -- The week has passed without one item of interest, in the vicinity of our camp. For the last two days not a gun has been heard from the enemy, to denote that "they are still there," but we know they are...

Uncle Drury Jenkins, of Co. "E," the old veteran of seventy years, has been obliged to succumb, and has received his discharge. We regret his departure from us, for we had all learned to love him. No doubt he will receive a cordial reception upon his arrival home. He is worthy of it...
The same newspaper carried Mr. Jenkins' funeral notice some sixteen years later:
Macon Telegraph and Messenger
(Georgia)
2 March 1878, pg. 4
Funeral of Mr. Jenkins
Yesterday afternoon the funeral of Mr. Drury Jenkins was preached at the First Baptist Church.

Dr. Skinner, the pastor, delivered the discourse. After speaking from the words of scripture contained in the sixth verse of the sixty-fourth chapter of Isaiah, of the brevity and uncertainty of life, and that "we all must fade as a leaf," he gave a short sketch of the deceased.

He was been [sic] in North Carolina on November 4th, 1794, moved at an early age to Washington county, where he afterward joined the Baptist Church. He was forty-three years a consistent member. He was in several engagements during the late war.

A fine eulogium was pronounced on Mr. Jenkins as a man and Christian.

At the grave Masonic honors were paid which closed the funeral services.