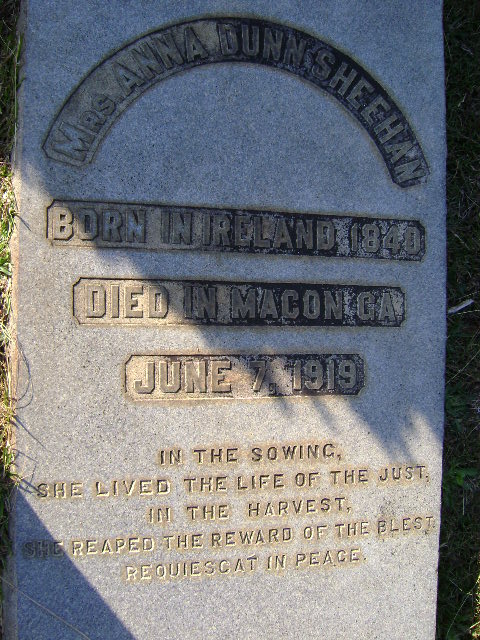 Photo by James Allen
DEATHS AND FUNERALS.
MRS. ANNA D. SHEEHAN.
Mrs. Anna D. Sheehan, widow of Dennis Sheehan, died yesterday afternoon at 3:20 o'clock at Mt. De Sales Academy. Mrs. Sheehan was in her 85th year, and had been in declining health for several months. She will be kindly remembered among the older residents of this city, having lived here since early womanhood. Her husband, Dennis Sheehan, was a merchant here and died many years ago. The funeral services will be held at St. Joseph Catholic church this (Sunday) afternoon at 5:30 o'clock, Father Frankhauser officiating. The following will serve as pallbearers: Messrs. Robert Sheridan, Augustin Daly, Jack Coffey, James McMurray, Mr. Callaghan and Giles Hardeman. [
Macon Telegraph
(Georgia) 8 June 1919, Pg. 10.]
Mrs. Anna Sheehan was born about 1840 in Ireland. She was the wife of
Dennis G. Sheehan
, and the mother of
Thaddeus D. Sheehan
.
In the sowing, she lived the life of the just,
In the harvest, she reaped the reward of the blest.