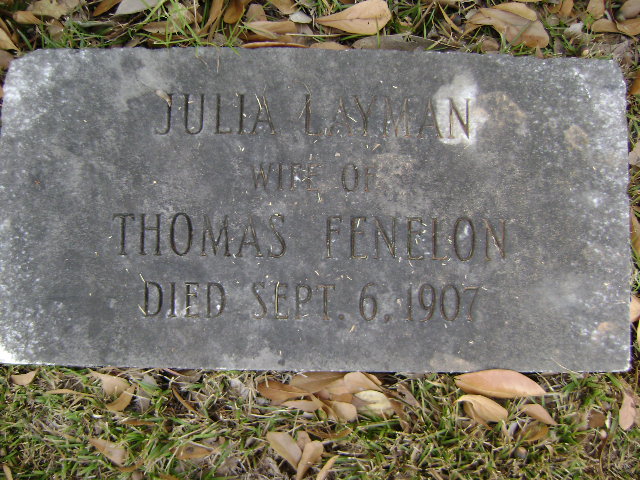 Photo by James Allen
ANOTHER OLD CITIZEN GONE TO HER REWARD

FUNERAL OF MRS. FENELON WILL TAKE PLACE THIS AFTERNOON AT 4 O'CLOCK.
Another old citizen, one of those who grew up with Macon, died yesterday afternoon.
This was Mrs. Julia A. Fenelon, who died at her home, 1921 Third street, in South Macon, after an illness of three months.
She was the widow of Thomas Fenelon, one of Macon's best known railroad men, and was the mother of Mrs. Jas. E. Reed, Mrs. T. C. Hickey, J. T. and J. S. Fenelon, Mrs. J. McDonald and Mrs. W. M. Dewberry.
Mrs. Fenelon lived nearly all her life in Macon. By her good deeds she numbered her friends by the score, and the news of her death will bring sorrow to many households.
The funeral will take place from St. Joseph's Church at 3:30 o'clock, with Father Madden officiating. [
Macon Telegraph
(Georgia), 7 September 1907, pg. 6 -- viewed online at
GenealogyBank
.]
Census records suggest Julia was born about 1839 in Virginia. She and her husband Thomas rest in the Eglantine Square section of Rose Hill Cemetery.